Wednesday 06 Jul 2022
Old Trafford / Manchester / World
England W

Austria W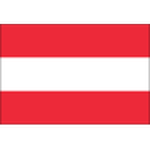 ---
---
»Europe» Euro Women »England W VS. Austria W
Team analysis:
England W is in 8th place with 0 points, while Austria W is in 21st place with 0 points.
Odds analysis:
Opening the handicap of (+2.5) in favor of Away, to then increase the odds very easily, and to change the handicap line to (+2) also in favor of Away.
Is the bookmaker very confident in offering this current smaller handicap in favor of Away?
Conclusion:
We think so, because both teams are in shape, both teams have a consistent game and we think it will be a balanced match on the handicap line, and Austria W will raise its level even more to limit the proportions of the score and we believe as Austria W can cross the current handicap line and will not lose by more than 2 goals difference.
Pick: Austria W (AH +2) - odds 2.00
PREDICTION
England W vs. Austria W – Away ( AH +2 ) (Stake: 10)
ODDS
2.00
RESULT
Match Score: 1:0
Tip Result: Won ( + 10 )
---